Thursday, 9 May 2013
Any Video Converter (Free version) enables you to convert between a wide range of video formats including AVI, FLV, MOV, MP4, MPG, M2TS, MTS, RM, RMVB, QT, WMV and others. It offers ready-to-use conversion profiles to choose from and you can also manually adjust the settings for each format.In addition to format conversion, the program can also be used to trim and crop a portion of a video or to merge multiple video files into on.Other features include batch conversion, integrated YouTube download, video snapshot capture and more.
The software converts most video files including AVI, FLV, MOV, MP4, MPG, M2TS, MTS, RMVB, AVCHD, MKV, WebM(V8), QT, WMV, VOB, 3GP, 3GPP2, DivX, and more into other formats such as AVI, MOV, MP4, FLV, WMV, MP3 and etc.[3][4] The resulting output files can be transferred to an iPod, iPhone, iPad, Apple TV, PSP, Samsung, HTC, Android, BlackBerry, Nokia, Xbox, Smartphones and etc.[5] This freeware also performs functions such as downloading videos from online video-sharing sites such as YouTube, Nico, MetaCafe and etc. Users can edit videos as they like such as cutting, rotating, clipping, adding video effects, combining multiple videos into one file. Moreover, It also allows users to create HTML5 videos with embedding code ready to use for websites, burn videos to DVD or AVCHD DVD disc, boost video conversion speed up to 6X faster with CUDA acceleration.
HOW TO REGSITER?
1. Download Any video converter
2. Extract file (Rar.file)
3. Install Any video converter.
6. Go to C/Program file/Any video converter/
7. Replace avcdrm.dll file by paste.
8. you have registered Any video converter NOW enjoy it.
Wednesday, 8 May 2013
Internet Download Manager (IDM) is an easy to use tool to increase download speeds by up to 500 percent, resume and schedule downloads. According to the opinions of IDM users Internet Download Manager is a perfect accelerator program to download your favorite software, games, cd, dvd and mp3 music, movies, shareware and freeware programs much faster!
A function within a larger program that manages file transfers from a remote device to the user.
A utility that replaces the native download function in a Web browser. Download managers offer a number of features, including the ability to resume a download after a connection fails. Links can be gathered during the day and scheduled to run automatically at night when there is less network congestion.
They Fool the Server
Some download managers initiate multiple connections to the same server, starting each transfer at a different location in the file and combining the pieces at the end. The greater the user's Internet bandwidth, the faster the download, because Web servers typically limit bandwidth to each user in order to let more users download simultaneously. For example, if the download manager creates eight connections, the Web server thinks it is transmitting to eight different users. However, organizations that have limited server resources sometimes attempt to detect download managers and refuse the additional connections.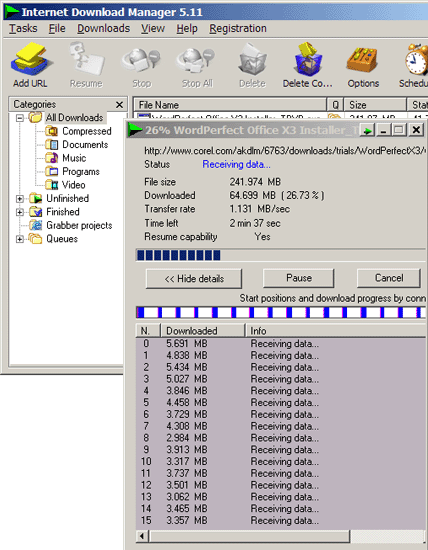 IDM
DOWNIDM FOR LIFE TIME.
1. DOWNLOAD
2.EXTRACT FILE (RAR.FILE)